---
RISOTTO RECIPES
---
RISOTTO WITH PORCINI MUSHROOMS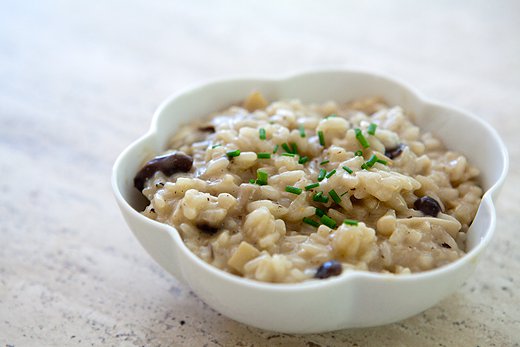 Recipe for 4 persons
Ingredients
400 grams carnaroli rice
800 grams vegetable broth, (see recipe below)
200 grams porcini mushrooms.  Fresh is always best,  but off season use frozen
4/5 pieces dried porcini mushrooms chopped after soaked in warm water to soften.
1 piece of garlic finely chopped
1 glass white wine
2 tbs butter
100 grams parmesan
Method
Heat a pan with 2 tablespoons of olive oil.  Add mushrooms, garlic, salt, pepper and cook until browned.  Add parsley at the end.  Take the mushrooms out of the pan and put on the side.
In the same pan, add 1 tablespoon of olive oil, and when it is hot add the rice. After the rice is coated with the oil, add the white wine and let it absorb.
Add enough stock to completely cover rice, and let cook for about 10 minutes before you add the mushrooms.  Let cook for another 10 minutes until you have the consistency that you like. (Ale's method is to not stir while it is cooking, but if you prefer to, that works as well).  It should be al dente, not too hard, not too soft.  At the end add the butter and parmesan and stir vigorously until you have a creamy risotto.
RISOTTO WITH RADICCHIO AND TALEGGIO CHEESE AND WALNUTS
Ingredients
400 grams carnaroli rice
2 radicchio tardivo chopped
1 small onion chopped
1 pinch of sugar
1 cup red wine
800 grams vegetable stock
100 grams taleggio
50 grams parmesan
1 tablespoon butter
6-7 walnuts chopped
Method
Start with home made vegetable broth, (see recipe below)
In pan heat up 2 tablespoon olive oil.  Cook radicchio and onion with a pinch of sugar.  Take out of pan and leave on the side.
In the same pan, add another tablespoon of olive oil.  When hot, add risotto and let cook for a couple of minutes before adding red wine.
Once the red wine is reduced add vegetable broth and let cook for 10 minutes. Ale's method is to not constantly stir the risotto, but if you prefer to constantly stir, that is fine too.  Add radicchio/onion mixture and let cook another 10 minutes.  It should be al dente, not too hard, not too soft.
At the end add butter and parmesan and stir vigorously until creamy.
Garnish with chopped walnuts.
VEGETABLE BROTH
Ingredients
1 big pot of cold water
1 onion
1 carrot
1 celery
1 sage leaves
1 bay leaf
1 branch of rosemary
Method
Bring to boil and let simmer for 1 hour.  Add salt according to your taste.
Drain liquid through a strainer so only the clear liquid remains.
---
BECHAMEL
Ingredients:
100 grams flour
100 grams butter
1 liter whole milk
Method:
Melt the butter, add the flour and mix until it is smooth and starts to turn a dark yellow
Add the hot milk and whisk.
Adjust salt to taste and a pinch of nutmeg.
Continue to whisk until you have a silky consistency.
---
PASTA RECIPES
---
PASTA DOUGH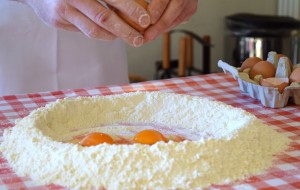 Ingredients
1 grams 00 flour
1 grams duro flour
2 eggs, (1 egg per 100 grams)
1 pinch of salt
1 spoon of olive oil
Method
Mix all your ingredients and knead dough until you have a smooth silky texture.
Cover with plastice and let it rest for at least 30 minutes before using.
---
HERB RICOTTO FILLING FOR RAVIOLI
Ingredients
400 grams of mucca/cow ricotta
Handfull of basil chopped
¼ cup grated parmisan
Zest of 2 lemons
Pinch of salt
Method
Mix altogether and taste. I like a lot of basil and lemon zest, so you can add more if you like.
If you serve the ravioli with a pesto sauce, leave out chopped basil.
---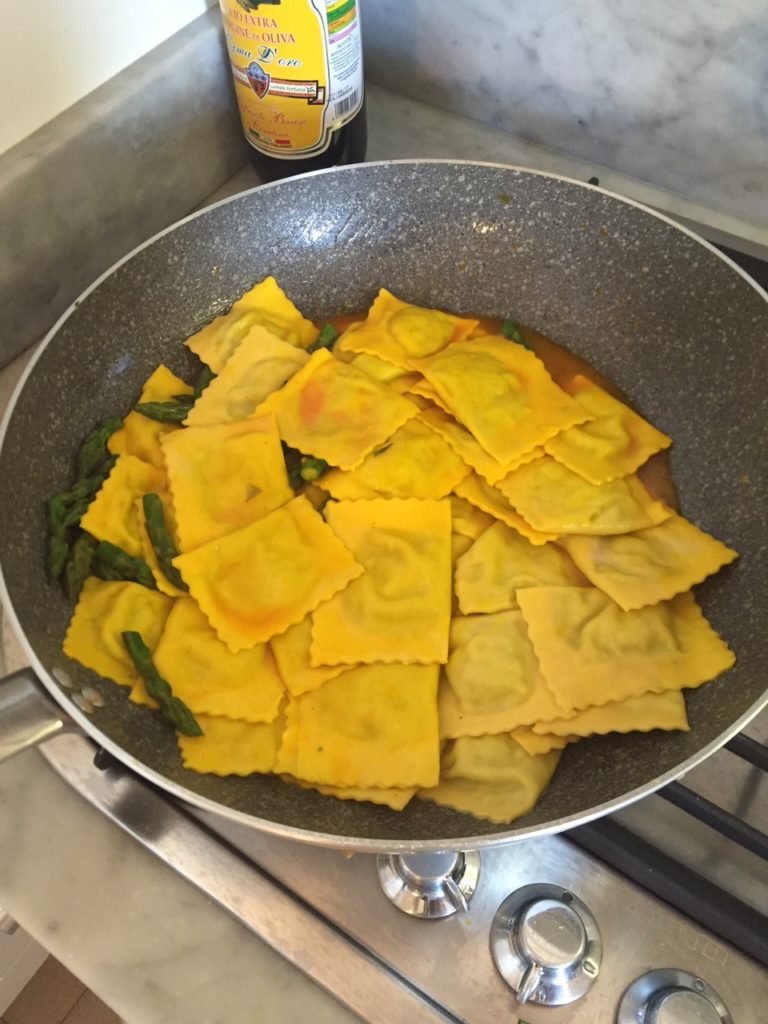 RICOTTA AND ASPARAGUS FILLING FOR RAVIOLI
Ingredients
250 grams ricotta
200 grams parmesan
500 grams asparagus
1 spoonful of chopped onions
2 saffron
1 tablespoon butter
Pinch of nutmeg
Method
Cut the end off the asparagus and put in boiling water for 2-3 minutes.
Transfer asparagus to a pan with the chopped onions and cook for another 5 minutes
Cut the tips off a 1/4 of the asparagus and keep to the side.
Put the rest of the asparagus in the food processor and puree.
Mix puree with ricotta, parmesan and a pinch of nutmeg.
Fill the ravioli with puree mixture
Cook ravioli in salted boiling water for 5 minutes
Transfer ravioli and asparagus tips to a pan with melted butter, saffron and a cup of liquid left over from the pasta water. Cook until the liquid reduces and becomes creamy.
---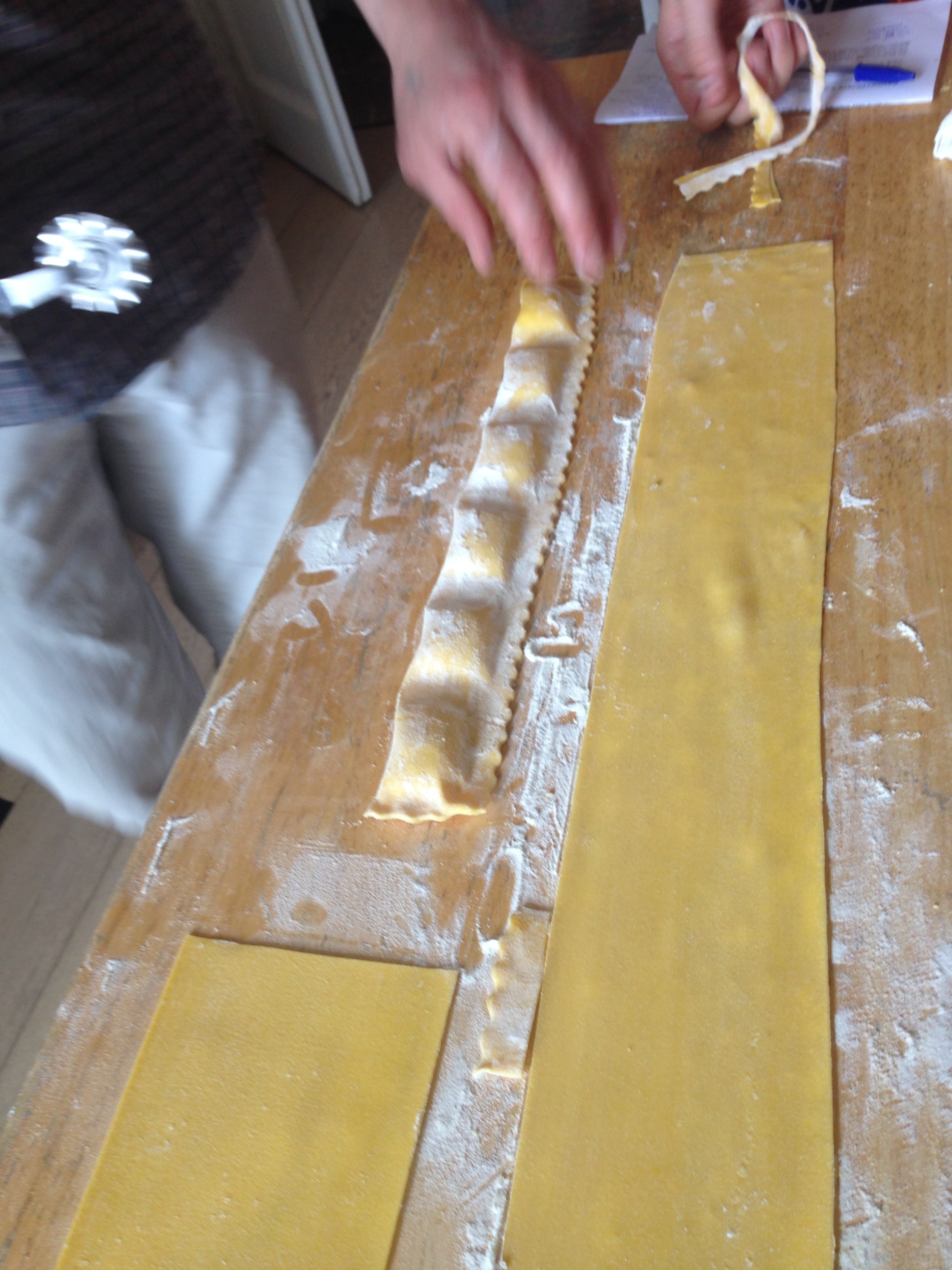 RAVIOLI WITH SQUASH, PINE NUT FILLING IN A BUTTER, SAGE SAUCE
Ingredients
400 grams of "violin" squash pealed and cubed
200 grams grated parmesan cheese
100 grams roasted pine nuts
big handful of sage leaves
100 grams butter
Peel and dice squash
Preheat oven to 200
Put squash in bowl and toss with olive oil, salt and pepper
Place squash on tray and bake in over 30-40 minutes until squash is soft
Once cooked, add 1/2 of the sage leaves,  50 grams pine nuts, and parmesan
Puree mixture until smooth and let cool.
Fill ravioli with puree mixture
Cook ravioli for 5 minutes in salted boiling water
In the other pan, melt butter and cook remaining sage leaves
Add ravioli and with some pasta water and finish cooking.
Top with remaining pine nuts
---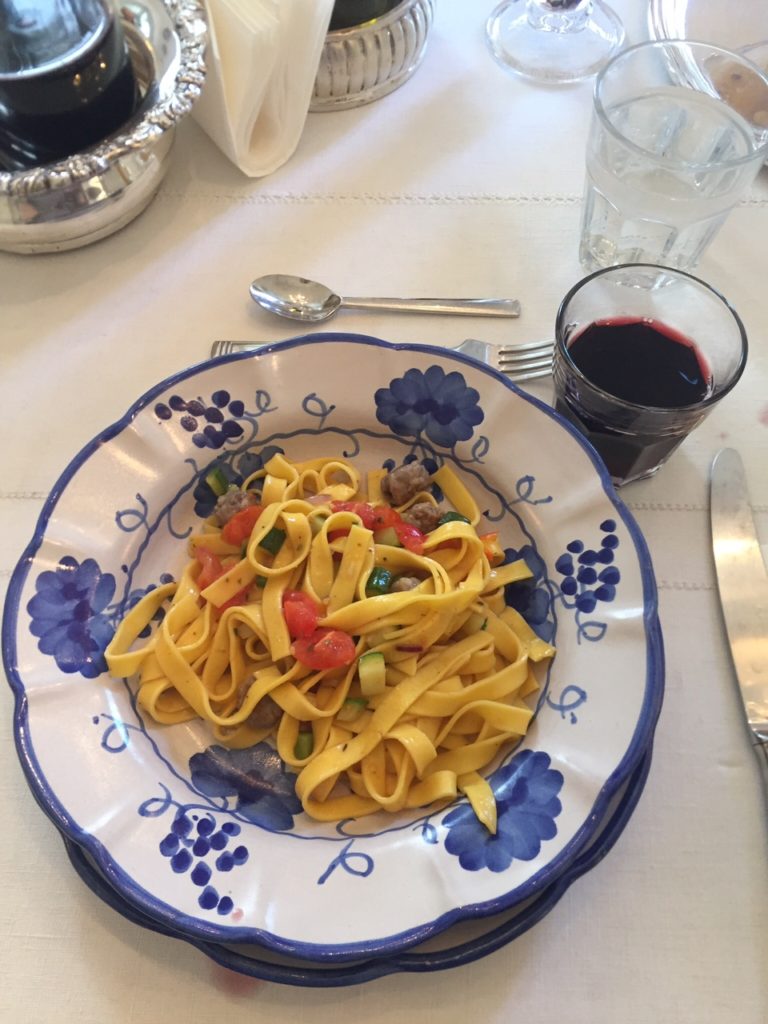 TAGLIATELLE WITH SALSICCIA, ZUCCHINI AND CHERRY TOMOTOES
Ingredients
200 grams sausage
2 zucchini chopped in cubes
10 cherry tomatoes
1 tablespoon chopped onions
1 tablespoon chopped rosemary
Method
While you boil the tagliatelle, cook in a very hot pan the sausage, tomatoes, zucchini, salt and pepper
When pasta is ready throw in in the pan with the sausage and add the rosemary.
---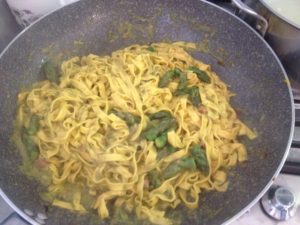 TAGLIATELLE WITH ASPARAGUS AND PANCETTA PUREE AND STEAMED TIPS
1000 grams of asparagus
200 grams cubed pancetta
Handful of roasted pine nuts
Pasta dough (see recipe above)
Method:
Prepare pasta dough and let rest for 30-40 minutes
Cut tips off the asparagus and break the ends off.
Roast pine nuts in a small pan and set aside
In large pan, heat up olive oil and add the asparagus, (not the tips), pancetta, salt, pepper, and sauté until soft
In the same pan puree the asparagus with hand wand until smooth
Boil water and add asparagus tips.  Make the tagliatelle pasta and add to salted water.
When almost completely cooked drain pasta and keep 1 cup of pasta water
Add the tagliatelle to the pan with asparagus puree, and add pasta water to make the sauce creamy
Serve pasta and top with pine nuts
---
PESTO LASAGNA
Ingredients:
Pasta Dough, (see recipe above)
Pesto, (see recipe below)
Béchamel, (see recipe above)
Grated parmesan
2 boiled potatoes
Pre-boiled string beans
Method:
Preheat oven to 200
In baking pan, start with layer of béchamel and then layer of pasta dough
Add layer of pesto, potatoes, and beans.
Begin again with pasta, béchamel, pesto, potatoes and beans.
Do as many layers as fits the pan.
Finish with béchamel and grated parmesan.
Cook for 30-35 minutes until the top is brown and crunchy.
---
BASIL PESTO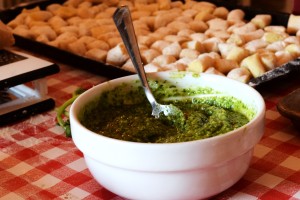 Ingredients
4 handfuls of basil
½ cup grated parmesan
½ cup grated pecorino Romano
¼ cup pine nuts
½ clove garlic
1 cup olive oil
Method
In a food processor, start with basil, cheeses, garlic, and then drizzle in olive oil. At the end, add pine nuts.
Chop until smooth. I like it chunky, so I chop it less. If you like it smoother and thinner, add some boiling pasta water.
The pesto can be frozen and used later.
---
POTATO GNOCCHI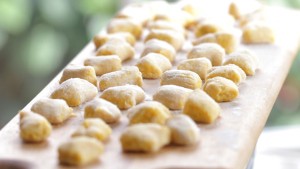 Ingredients
4 medium size potatoes. I prefer the "purple/red" ones. The older and dryer the better.
1 cup flower. It should be a 90% potato to 10% flour.
Method
Start with cold, unsalted water, and boil the potatoes with the skin on for about 30 minutes.
While the potatoes are still hot, remove the skin and mash with a fork or a potato masher,(schiaccia patate),   Do NOT use a food processor.
Mix the potatoes and flour together, but don't overwork the dough like you do with pasta dough. The outside should be smooth and non-sticky, but the inside is somewhat wet,
Wrap the dough in plastic wrap and let rest for 1hour.
Take portions of dough and roll to a thickness of a big stick.
Cut in to individual gnocchi and roll over the back of a fork to make grooves to hold the sauce.
Put in boiling salted water. They are done when they float to the top.
If you want to freeze them for later, make a single layer on a floured tray and put in the freezer. Once they are frozen you can take them off the tray and put in zip lock bags.
---
DESERTS
---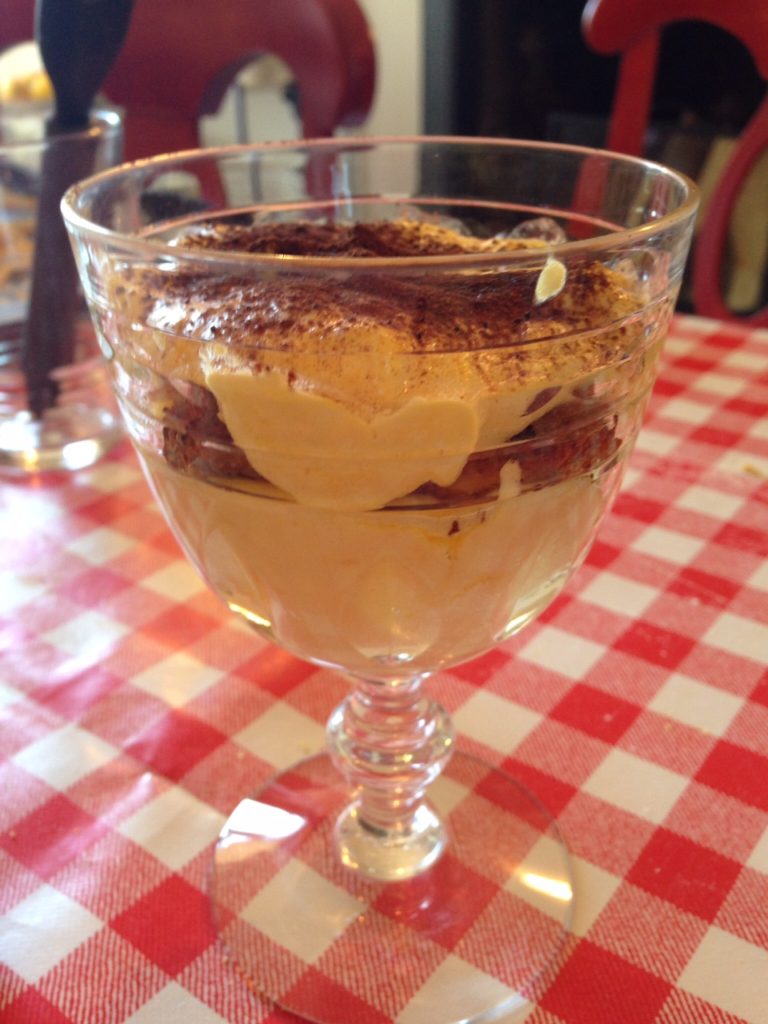 TIRAMISU
Ingredients
6 eggs
1 cup espresso coffee cooled
400 grams of lady fingers
120 grams sugar
500 grams mascarpone
Cocoa powder
Method
Separate all the egg yokes from egg whites
Mix egg yokes with 1/2 the sugar with hand mixer until it is uniform and brighter
In a different bowl whip egg whites until is becomes foamy and stiff, (5-6 minutes)
Combine egg yokes with mascarpone.
Fold in gently egg whites with the mascarpone
Soak the lady fingers on just one side in the sugared coffee.
To assemble start to layer with lady fingers, mascarpone and finish with a dusting of cocoa powder.
---
Since I am an American, I can help but add some of my American deserts!
AMY'S CHEESE CAKE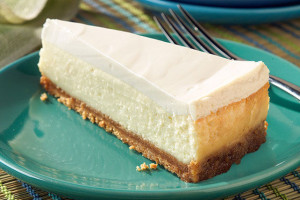 Ingredients
Crust:
2/3 of package of Digestivi cookies, (graham crackers), crushed.
100 grams melted butter. Could be more. There should be enough butter to make the crumbs stick together, but you don't want it to be greasy.
Add melted butter to crushed cookies and spoon it in to pie shell.
Filling
2 containers of classic Philadelphia cream cheese, (250 grams each/8oz. each).
1 cup/226 grams sugar
1 container of sour cream, (pana acide), 200 grams/ ½ pint
2 tablespoons sugar
1 teaspoon vanilla
Method
Mix the cream cheese with 1 cup sugar and spoon in to pie shell. Cook at 325F/162C for 20 minutes.
Mix sour cream with 2 tablespoons sugar and vanilla. Take pie out of oven and put sour cream mixture on top. Increase temperture to 375F/190C and cook for another 10 minutes.
Refrigerate for 6 hours.
---
AMY'S BROWNIES
Ingredients
1 2/3 cups, (380 grams) soften unsalted butter
13 ounces,(370 grams) bittersweet chocolate
6 large eggs
1 tablespoon vanilla extract
1 2/3 cup sugar
1 1/2 cups all-purpose flour,(oo)
1 teaspoon salt
Pan the size of 13x9x2 1/2 inches, (35x25x7cm)
Method
Preheat oven to 350F, (177C)
Line the pan with parchment/wax paper
Melt butter and chocolate together over low heat
In a bowl beat the eggs, vanilla and sugar together
Measure the flour and salt in another bowl
When chocolate mixture has melted, let cool a bit before beating in the eggs, sugar, and then flour
Combine until smooth and then add to lined pan
Bake for 25 minutes.  When it is ready, the top should be dried to a paler brown, but the middle should still be dark and dense.
Let cool.  I like a dusting of powdered sugar on top.  Makes a maximum of 48
---
PANNA COTTA
Ingredients
500 ml fresh cream
100 grams powdered sugar
6 grams colla di pesce
1 vanilla bean
Method
Put the collar di pesce sheets in some cold water for a few minutes
Gently heat the cream with sugar and vanilla and stop before boiling.
Add the collar di pesce to the cream
Pour through strainer and in to individual dishes
Refrigerate for 4-5 hours
Cover with fruit sauce made from strawberries and sugar.  You can use whatever topping you like from fruit to chocolate.